Latest News

Forthcoming Events

CANDLEMASS

Sunday 31st January

This morning we celebrated Candlemass in Family Eucharist. All children were very involved in the sermon and the older children read both the reading and the intercessions. We welcomed families preparing for baptism and shared in all age worship.

CHRISTINGLE

Thursday 14th January

This morning St Mary's school came along for their Christingle service. Together with their teachers, assistants, parents grandparents, school govenors and church members this service celebrated and supported through songs, prayers and donations, the work of the Childrens Society.

All children had their own Christingle which were lit during the service and then (candles blown out!) were proudly taken back to school before taking the Light of Jesus back to their homes.

Parish Retreat

Foxhill, Frodsham

Fri Eve. 19th Feb till Sun afternoon 21st

Contact Ian 748 7857

Social Breakfast

9a.m. till 11a.m. Church hall Tickets £5.00 in advance

Confirmation

Sunday 22nd May 2016

A confirmation will be held here at 10.30 a.m. with the Right Rev. Graham Dow. Assistant Bishop in the Diocese of Manchester.

If you like further information please conatct Rev Chris Ford

Telephone: 0161 748 2210
e-mail:
christopher.ford5@btinternet.com

Read More

Read More
St. Mary the Virgin, Davyhulme, is a beautiful Grade 2 Listed building housing a thriving mainstream Anglican Church in the leafy suburbs of Manchester close to the Trafford Centre. St Mary's is one of eleven churches comprising the Stretford Deanery and one of the five Anglican Churches in Urmston, Flixton and Davyhulme, the others being :- Christ Church-Davyhulme, St Clements-Urmston, St John's-Flixton and St Michael's-Flixton.

Past Incumbents
Church Magazine FOCUS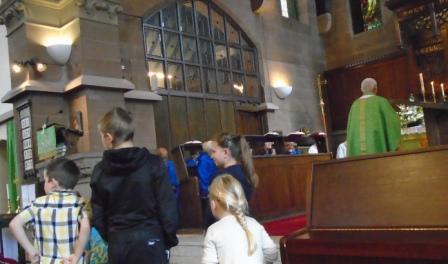 St Mary's c1920
St Mary's Now
Although we are an Anglican Church our doors are open to everyone, regardless of religious persuasion and all are most welcome to attend our various services.
There is something of interest for everyone, and St. Mary's has many families within it's congregation with children and parents participating together. On Monday afternoons we have Baby Massage and Stay and Play. We have a Mothers Union branch, Womens fellowship, links with scouts guides and rainbows. Please take a look at our calendar for current events.
We hold concerts, social breakfasts and other events in the Church under the banner of "Music at St Mary's" and we also have a modern Church Hall which is available for hire.
St Mary's is a popular venue for Baptisms and also has weekly active links with the exciting learning community at St Mary's C of E Primary school.
We are the closest church to Trafford General Hospital and patients and staff from the hospital regularly attend St. Mary's.
We have a Partnership Agreement with the Evangelical-Lutheran Parish of Harmala, in Tampere, Finland.

St. Mary's has good facilities for people with mobility and other additional needs with a disabled toilet, baby changing facilities and an induction loop system installed for those with hearing difficulties. Large print service sheets and hymn books are available upon request.
Services & Visitors
Our regular services on Sundays and Wednesdays offer both Common Worship (CW) and the Book of Common Prayer (BCP) liturgy.
The Church is normally open from Monday to Friday between 9.30 and 11.30 am for all visitors, regardless of faith, for private prayer, meditation, or just to look around.

Follow this link for details of how to find St Mary's Davyhulme.
Clergy
Our Vicar is :-
Rev. Canon Chris Ford
St. Mary the Virgin
Davyhulme Road
Davyhulme
Manchester
M41 7BU

Telephone: 0161 748 2210
e-mail:
christopher.ford5@btinternet.com

We also have an Ordained Local Minister (OLM): Rev. Dr. Simon Wright
e-mail: revdocwright@hotmail.co.uk