Latest News 2016

Forthcoming Events

Saturday 26th November

St Mary's Christmas Fair

A huge thank you to all who helped with our fair today; church and community sharing a very busy, happy , festive time. It was lovely to see so many friends meeting up, families enjoying a range of activities and fantastic fundraising. Final total raised will be announced in the next week or so.

Sunday 13th November

This morning we had an all age service of remembrance at Church with wreaths and poppy crosses laid by children and adults within our special service.

Saturday 22nd October

Coffee morning

This morning people gathered with friends for tea, coffee and toasted teackes! We enjoyed a good chat and a raffle as we collected together donations for our upcoming Christmas Fair.

Junior Church activity

Here is a photo of one of our many activities organised by our leaders and enjoyed by 6 children and their adults on 23rd November.

Play and Stay Craft

Each Monday we have crafts story rhyme time and lots more. Here are some of our craft pictures.

Junior Church

During August we had a regular attendance of children at our 10.30 Sunday service. Numbers ranged from 3 to 15! The children enjoyed games and crafts based on bible stories and shared their craft work with the congregation. Many thanks to our team of leaders for all their organisation.

Ella, who is one of our young members, designed an invitation leaflet that is now available to give to new families and with our baptism anniversary cards.

27th November ADVENT SUNDAY

ADVENT MEDITATIONS

Tuesdays 7.30pm in church

29th Nov, 6th , 13th, 20th Dec,

Christmas Tree Festival

3rd – 9th December

Inclusive

3rd December 12 noon – 5:00 pm Saturday

4th December 1:00 pm – 4:00 pm Sunday

5th – 9th December 10:00 am - 4:00 pm

Monday to Friday

Tea & Biscuits available

Entrance /Program

£2 Donation

Band In Residence at St Marys

Commencing January 2017 St Mary's will welcome its very own "Band in Residence".

Sweet Rhythm Big Band are a Sale based 15 piece big band playing music which ranges from the "Strictly Ballroom" favourites through Glenn Miller classics, Films and Broadway Shows to recent hits. By coincidence, their Bass player is Steve Golding, the son of Norman & Sheila Golding and Allison Wood's brother, who we are delighted to welcome back to St Mary's.

The band has been together for over twenty-five years and has performed at weddings and other celebrations throughout Greater Manchester including Cloisters Bolton, The Concorde Hangar, The Hilton Manchester Deansgate, Egerton House Hotel, Etrop Grange, Mere Court Hotel, Mottram Hall, Northop Hall, Old Trafford Football Ground, The Palace Hotel Manchester and Rochdale Town Hall.

As our "Band in Residence" Sweet Rhythm will rehearse in the Main Church most Friday evenings and will perform a couple of concerts at St Mary's each year plus supporting Local Community Events. They will also help support the young people of the church musically.

The band is a not-for-profit organisation and any surplus remaining after covering their expenses is donated to charity.

The band is currently looking for Trombone Players, do you know of any ?

David Mackereth

https://sites.google.com/site/sweetrhythmbigband/
St. Mary the Virgin, Davyhulme, is a beautiful Grade 2 Listed building housing a thriving mainstream Anglican Church in the leafy suburbs of Manchester close to the Trafford Centre. St Mary's is one of eleven churches comprising the Stretford Deanery and one of the five Anglican Churches in Urmston, Flixton and Davyhulme, the others being :- Christ Church-Davyhulme, St Clements-Urmston, St John's-Flixton and St Michael's-Flixton.

Past Incumbents
Church Magazine FOCUS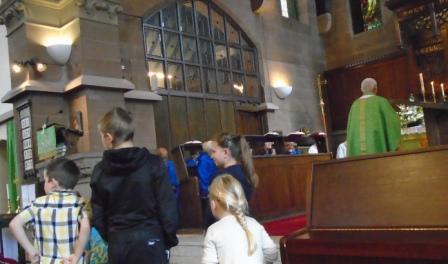 St Mary's c1920
St Mary's Now
Although we are an Anglican Church our doors are open to everyone, regardless of religious persuasion and all are most welcome to attend our various services.
There is something of interest for everyone, and St. Mary's has many families within it's congregation with children and parents participating together. On Monday afternoons we have Baby Massage and Stay and Play. We have a Mothers Union branch, Womens fellowship, links with scouts guides and rainbows. Please take a look at our calendar for current events.
We hold concerts, social breakfasts and other events in the Church under the banner of "Music at St Mary's" and we also have a modern Church Hall which is available for hire.
St Mary's is a popular venue for Baptisms and also has weekly active links with the exciting learning community at St Mary's C of E Primary school.
We are the closest church to Trafford General Hospital and patients and staff from the hospital regularly attend St. Mary's.
We have a Partnership Agreement with the Evangelical-Lutheran Parish of Harmala, in Tampere, Finland.

St. Mary's has good facilities for people with mobility and other additional needs with a disabled toilet, baby changing facilities and an induction loop system installed for those with hearing difficulties. Large print service sheets and hymn books are available upon request.
Services & Visitors
Our regular services on Sundays and Wednesdays offer both Common Worship (CW) and the Book of Common Prayer (BCP) liturgy.
The Church is normally open from Monday to Friday between 9.30 and 11.30 am for all visitors, regardless of faith, for private prayer, meditation, or just to look around.

Follow this link for details of how to find St Mary's Davyhulme.
Clergy
Our Vicar is :-
Rev. Canon Chris Ford
St. Mary the Virgin
Davyhulme Road
Davyhulme
Manchester
M41 7BU

Telephone: 0161 748 2210
e-mail:
christopher.ford5@btinternet.com

We also have an Ordained Local Minister (OLM): Rev. Dr. Simon Wright
e-mail: revdocwright@hotmail.co.uk